I ended up making 72 of these... 36 Milky Ways and 36 Three Musketeers!!! I forgot to take pictures of the ones that I had in Tanner's classroom, but they were all basically the same, just different googly eye and beetle placements!
I ran across these on Jin's blog
Under a Cherry Tree
a few weeks ago and decided to make these for Parker's classroom instead of treat bags. Well...then Tanner saw them and decided he wanted them for his classroom too! I made extras for the teaching and administrative staff at the school as well as a few friends. I tweaked my version a bit from Jin's by adding cobwebs and puffy beetle stickers to them. The kids LOVED them, but I cringed as they ripped them open to eat the candy bars after the HOURS I spent wrapping them all! lol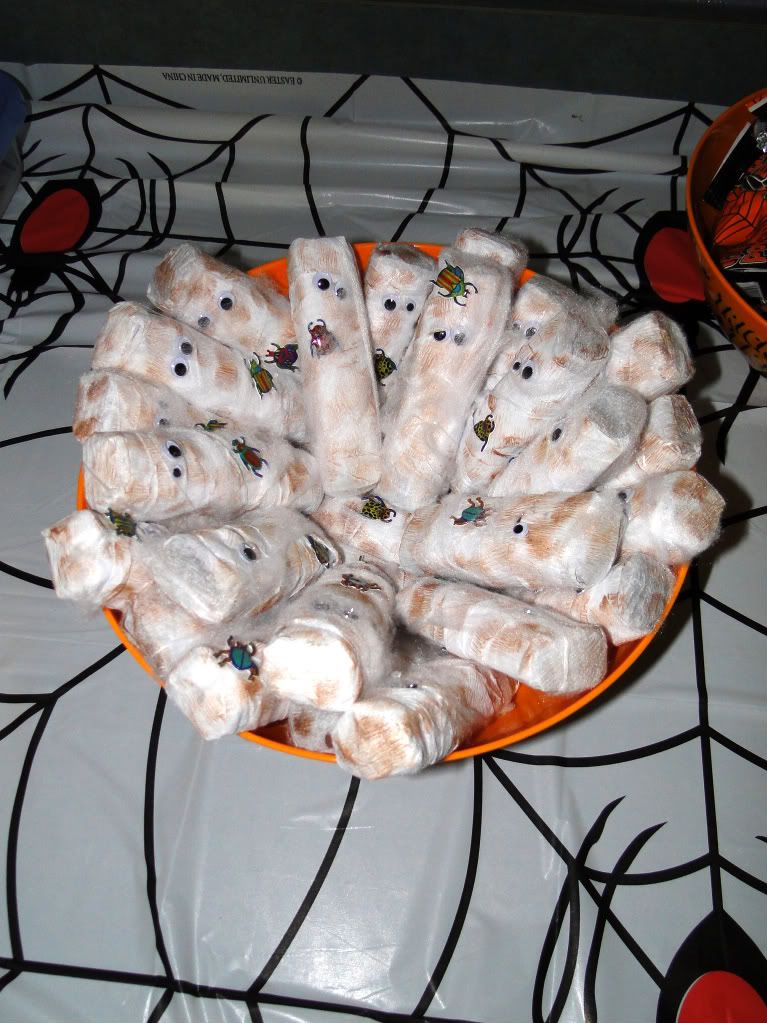 Items used:
Full size candy bars
white crepe paper
Sticky back googly eyes
brown ink
cobweb
I cut the strips of crepe paper at about 65 inches each. I would wrap my first wrap length wise and then start wrapping around the candy bar to give the mummy look. After I wrapped them I would just tuck the ending part in the back and then ink to give it the dirty old look. Googly eyes were added next and it was much easier using the sticky back ones rather than having to glue them down individually. After putting the cobwebs on I added the beetle stickers for the finishing touch. I probably would have used spiders instead, but I found these cool beetle stickers at the $1 store that was enough to do all of the candy bars!
This was definitely a time consuming project, but well worth it when I saw the kids faces! I was thinking about trying something similar for Christmas. You could simply wrap them in red crepe paper and use batting for Santa's beard and cut a little triangle for his hat. Stay tuned for the results of that idea!