Good Monday morning! What??? Did I just put "good" and "Monday morning" in the same sentence?!?! YES I did and that is because there is no school today because of MLK Day! YIPPPEEEE!!!!
Here is an Alice in Wonderland LO that I made to enter into a couple of challenges. I was so happy to use my new Disney Classics Cricut cartridge that my wonderful hubby pre-ordered for me for Christmas! What a fantastic addition to any Disney lovers Cricut cartridge library! If you love Disney, you MUST get this cartridge!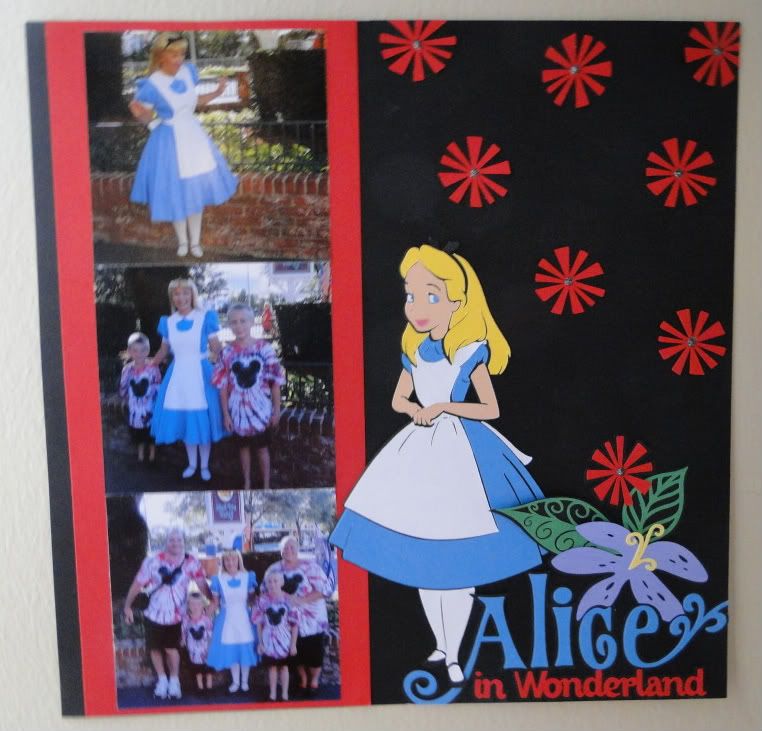 I used Colorbok pearlescent paper for "Alice" and the purple flower as well as Alice's dress. Alice was cut at 8" and the "Alice in Wonderland" word cut was done at 5". I decided that I wanted some more of the red pinwheel type flowers to dress up the rest of the page. There is not a cut option for just the flower so I just used my Gypsy and the hide and contour feature so that I could cut multiple of just the flower! I wanted to 'tie' (pun intended) in the red and black from our Mickey head tie dye shirts so that is why I decided to use the solid black background paper and the red for matting. I was very happy how this page turned out. I have not made a scrapbooking page since OCTOBER! Boy did it feel good to work on my Disney pictures again! Sorry for the poor photo quality of the pictures in the LO. I had a really hard time getting this to photograph nicely. The camera kept focusing in on Alice and the word art.
I am entering this LO in two challenges...
Always Crafting's Whimsical Wednesday
and
Card Creations by C anything but a card challenge
. I hope you all have a marvelous Monday!