I have borrowed the Mini Monsters cartridge in the past to work on some Halloween projects and I really do need to add it to my library since I just got the new Best of Pixar cartridge I decided to use that for the challenge going on over at
More Than Favors
blog. I am also entering this LO for the
"What a Character" challenge at Betty Bee's Buzz
.
Here is my Sulley LO! I just love that big, huggable monster!
I used the ColorBok Pearlescent paper for Sulley which gives a nice sheen to his "fur". The spots are light purple, but it doesn't look that good when the flash hit it. I was just trying to show you how the paper shines.

I couldn't resist using this little monster gallery cut to put at the bottom of the boys picture.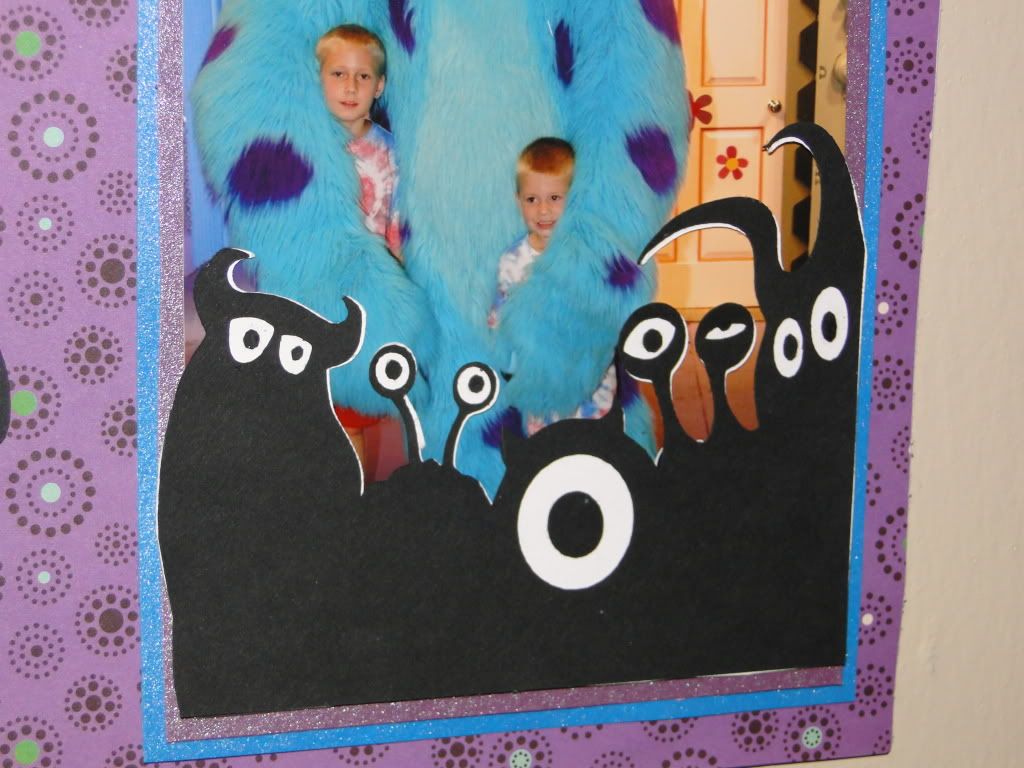 I lost the note card that I wrote the cut sizes and background paper information on and I've already deleted the files from my Gypsy. I can tell you that I used my 12X24 mat to cut Sulley because I wanted the top portion of his body big for my page. I just used the whole body cut and put it at the bottom of the mat so I only cut the top half and didn't waste any paper.
Don't forget to sign up for my cartridge blog candy! Today is the last day, I will be using Random Org. tomorrow morning to draw the winners!
Love Struck
and
Cupcake Wrappers
I would love for your support for the two contests I have cards entered in right now! You can go here to
Enfy's Blog
and vote for my Flik card #42 and here to
Karel's Blog
on her right sidebar and vote for my THOUGHTFUL FLAMINGO card! Thank you so much for your support and votes!
TGIF! Looking forward to having some family down for the weekend and going to a Detroit Pistons game! Hope you all have a glorious weekend! I will be back in the morning to pick the winners of the cartridges! GOOD LUCK!