My boys are indeed bonkers for beignets! So much so that we haven't been able to lure them away to a different hotel from Port Orleans for our last 4 trips! Between the beignets for breakfast (and sometimes late night snack!) from the Sassagoula food court and the sea serpent water slide at the pool...it has been a tough task convincing them that it's time to switch to a different resort for our next trip!
This LO has pictures from one of our 2008 trips. You will notice Tanner's face is a little beat up. We arrived in Florida by vehicle late the night before our check in date at Disney so we stayed just off property at a Marriott. We walked outside to their food court to get some pizza for dinner and while I was inside placing our food order Tanner and Parker were running around and Tanner ran smack dab into a huge cement pillar! You know the first words out of my mouth were "OMG! All of our pictures are going to be ruined!!!!" Then I quickly asked if he was okay! :) Come on! Admit it...all of you scrapbookers can relate! Anyways, these pictures were taken almost a week after it happened and he was still looking pretty rough!
This is a 2 page LO...you can click on it to view it larger if you would like.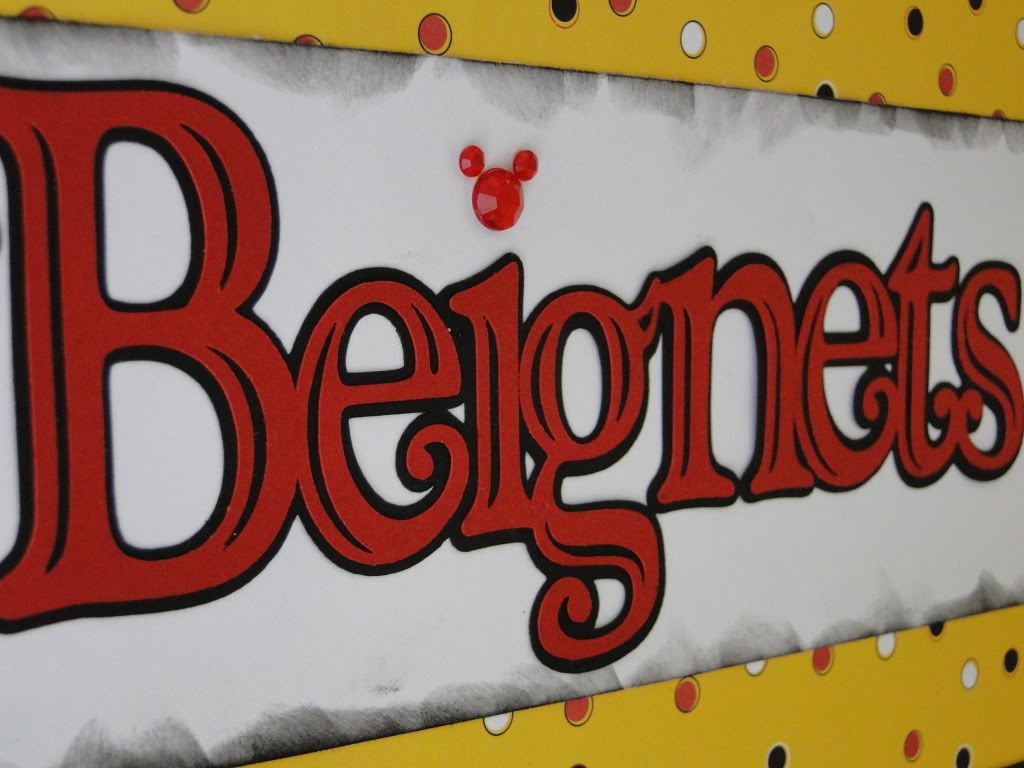 I used Winter Woodland cartridge to weld the letters to make the word "Beignets". I LOVE this font! The only pain was trying to get a good match with the shadowing. It took some playing around, but I finally got it match up pretty good. 
The "BONKERS 4" was cut from Mickey font. The patterned paper is from my HUGE stash of Disney paper and I used one of the Mickey head shaped gems from EK Success for the dot on the "i".
For those of you who do not know what beignets are:
beignet (pronounced ben-yay) A traditional New Orleans yeast pastry that is deep-fried and served hot with a generous dusting of confectioners' sugar. The name comes from the French word for "fritter."
Have a terrific Tuesday!