Phew! It is so nice to just chill out, relax and have NO PLACE that I am scheduled to be! Yesterday I spent most of the day just catching up on my rest and doing nothing much! It was FANTASTIC! I did manage to get a couple of things done for my upcoming guest designer post over at
Karel's One by One the Flamingos are Stealing My Sanity
this coming Friday, so stay tuned for that! Today I am working on projects for a couple of blog hops I'm participating in, the first one taking place next weekend starting off at
Janice's blog Cricut Confessions
is the Sparkly Things Distract Me Blog Hop!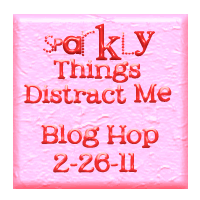 I also received some blog candy that I won in the mail during the week that I need to take pictures of and share. I will try and get to that today or tomorrow.
While you are here I will share a link to some awesome blog candy up for grabs at
Victoria's blog
! She is trying to grow her list of followers and will be giving away the motherload of candy when she hits 300 followers!
Take a look at that stash! I see a Paisley cartridge, some Action Wobbles, one of Emma's stamp sets and all kinds of embellishments! You need to stop over at
Victoria's Blog
, sign up to become a follower and then leave her a comment for a chance to win! Good luck!
This is day 2 of 9 until the school is back in session again. I cannot tell you how much we needed this down time and some rest and relaxation. It doesn't even matter to me that we aren't going away...I'm enjoying just being home with my Cricut and Gypsy! Time to make some lunch and throw a load of laundry in the washer so I can get back to creating! Have a super day!