Good Sunday morning! There is still time to participate in the Sparkly Things Attract Me Blog Hop! Please click here for >>>
yesterday's blog hop
to find the lineup and a chance to win some sparkly blog candy!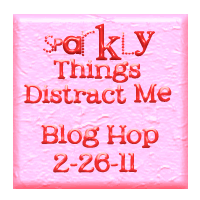 Most important to note is to PLEASE take a minute to stop by
Michelle's blog
who was late getting her post up yesterday due to a family emergency. She has had a rough few days and could use our support and prayers, so please make that a priority. Michelle, I hope today is brighter than yesterday and I will continue to keep your family in my thoughts and prayers.
Today is sadly our last day of mid-winter break and the boys head back to school tomorrow. I have thoroughly enjoyed the down time and just being able to hang out here around the house. I accomplished pretty much everything on my crafting to do list that I wanted/needed to get done for upcoming hops and challenges which is a huge relief considering these next few weeks are going to be crazy busy for us. I have also been learning a new program which is exhausting and exciting all at the same time! I will be posting about that sometime this week so stay tuned! I will also be having a couple more sneak peaks of blog candy to come that you won't want to miss!
Today is our good friend Diane sons 16th birthday!!! HAPPY BIRTHDAY ARMEN!!! I have a card to share with you, but I want to wait until after we give it to him today because Diane (the kind and wonderful friend that is letting me use her Expression!!!!) sometimes stops by my blog and I'd rather she see the card in person before seeing it on my blog.
How late should I let the boys sleep in this morning? I don't want to make getting back into the swing of things tomorrow any harder than it's already going to be! Maybe the smell of french toast will lure them out of their beds! Have a super duper Sunday everyone!!!