Hello! This card was creation from something that was pulled out of the trash! My Tanner LOVES to craft with me and is counting down the days until he is 8 years old and gets my Baby Cricut Bug! Eight seemed so far away when I first gave him that promise, but now he's down to less than 2 years from claiming it as his own! He is constantly pulling scraps and pieces from my craft area floor and basket and creating his very own artwork.
If you remember my owl card I posted last week....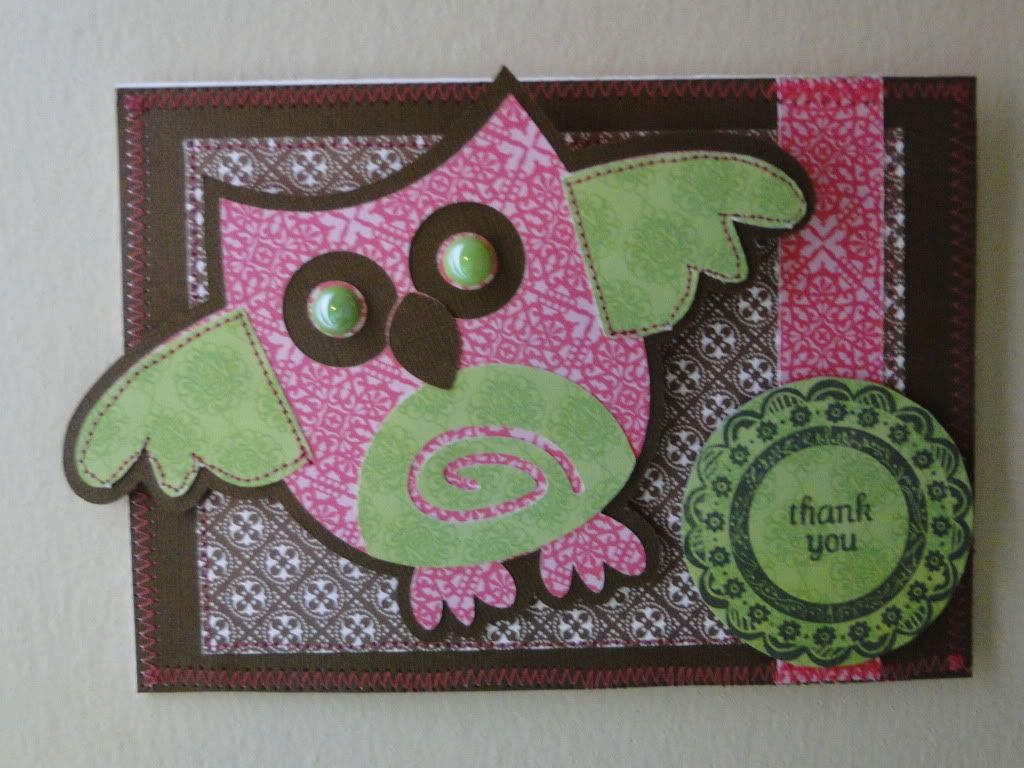 Well....Tanner's card was made from the negative cut of the owl that he pulled from the trash and said "I can make something with this! Can I have it?" So he pulled up a chair and we created this little card together for his 'girlfriend'. Orginally I had told him he could give her the Big Bird card, but he thought it would mean more if he gave her a card that he made himself! This kid is going to give all the other boys in school a run for their money when it's time to start turning on the charm with the girls! Oy vey!
So for Tanners card we just cut the negative image to fit the front of a card and he inked inside the negative area with green ink to soften the bright white of the card. He picked out the buttons and gems and used glue dots to put them down and then he used my letter stamps to stamp out the words "Who luvs u". I did the stitching on the sewing machine for him and we picked a heart for the beak. He can hardly wait to give this to Layla!
We are entering this card into the challenge over at
Betty Bees Buzz
to use a heart in an unusual way!
Hope you all have a Super Sunday! We are headed over to our friends house for a Pampered Chef Snoop Party and then continuing into a Super Bowl party afterwards! I wouldn't call myself a fan of either teams playing this year, but I will be rooting for the Green Bay Packers since the Steelers have won more recently. Yep...that is my reason! Well...that AND the fact that my friend Cindy lives in PA and is a HUGE Steelers fan and has been harassing me on my cell phone all week with annoying Steeler theme songs. UGH! It will only get worse if they win. I've had to suffer through a winning NHL season of the Penguins with her before. I need a break.